The Job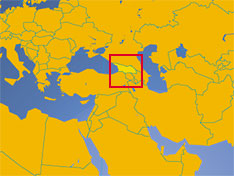 Georgia in yellow
I will be on my way to Tbilisi, Georgia, the country, in three days for the Teach and Learn Georgia (TLG) orientation. TLG is a program initiated by Ministry of Education that enables English speakers to teach (with the assistance of Georgian English teachers)
conversation and listening skills to Georgian students (grades 1-6 or police officers)
.
For the next ten months, I will be living in this small country in the Caucasus with a host family. Georgians, according to my research, are known for their hospitality and fierce pride-they have a lot of history of which to be proud (as depicted in the statue Mother Georgia in Tbilisi). Georgia is also known for its wine and subsequently, a drink akin to vodka made from leftover grape bits called cha-cha. Delicious khachapuri (think deep-dish white pizza) and khinkali (dumplings) come from this region.
The Packing List
Like any normal TLG-volunteer, I am going to post my packing list for future volunteers (please, withhold any judgement, non-participants). In a couple of months I will be able to share with you if I packed too much or not enough.
CLOTHES
Shoes
Galoshes ~Flip flops ~Trainers ~Black ballet flats ~Brown work-appropriate heels~House slippers
Jackets
Rain jacket~ Winter Jacket ~ Leather Jacket ~3 cardigans
Bottoms
3 jeans~ 1 pair of black pants ~4 skirts (navy/olive/black/winter)~
2 around the house pants (I have been advised to bring stretchy pants. You either gain lots or loose lots in Georgia)
Tops
2 tank tops~ 6 short sleeve ~5 long sleeve~ 1 turtleneck ~
1 work out top (short sleeve loose wick t-shirt from previous 5k, too tight might attract too much unwanted attention)
2 Scarves (summer/winter)
2 pairs of wool socks
2 dresses (winter/fall-spring)
Winter bed clothes (wool sweater/wool leg warmers/flannel)
Many undergarments
SCHOOL SUPPLIES
Simple English dictionary
Expo Markers and two white boards (8x11)
Flash cards (blank and sight words) *I've read bring as many as you can*
Scissors
Prizes (stickers and nifty erasers)
2 packs of chalk
Notebooks/writing pads
Several paperback books to read
Binder with plastic sleeves (see Living Rootless link below)
ELECTRONICS
Electronic Reader (great for downloading books/electronic Georgian to English flashcards)
iPod
Computer
Thumb drives (These are great if you have to go to an internet cafe and want to keep up a blog or make worksheets. They will save you time)
Camera
C Plug Adapter+ Voltage Converter (220-150 <~~~for Americans)
Alarm Clock
Various Batteries
MISC.
Lavender Sachets
Resistance bands (much lighter than weights)
Tote for school
Host family gift
2 light weight travel towels (from REI, X-LG/Med)
Toiletries
Sunglasses
2 pairs of up-to-date glasses
Contacts
Hand sanitizer (to carry to school, I've seen blogs about a lack of soap in bathrooms)
Travel -size wrinkle release spray (no wrinkles, clothes smell good)
Imodium, Ibuprofen, Benadryl
Bug spray
Vitamins
Sewing kit
Wind-up flashlight
Travel Journal
I relied on several other blogs when packing:
-Living Rootless
(great list for everything)
-Teaching Brave
(general but informative)
-Unofficial Guide to TLG
(great list for females)
-TLG Post from Bruna
(a list of reality checks as you begin hyperventilating while packing)
-Advice from her post: "Don't over-pack. You probably won't be in a shack somewhere and probably won't need a lot of things that you think you will need. Georgia has pretty much anything you will need and if not in your village, you can probably find it in the nearest city."
We'll see...